At SXSW interactive – AT&T sponsored 24 hour hackathon with host Lance Briggs.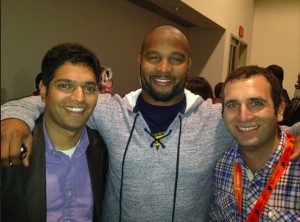 Praveen and Ben built a functional mobile application for Chicago's own Lance Briggs and his foundation for youth.  The app we built was a mobile application that allowed Briggs4kidz youth to have a network to connect to their peers and view various charitable activities that other kids were taking part in.  It was fun working with Lance, a great guy who cares about the Chicago community and does a lot to give back to at-risk youth and the less fortunate.  Our team took 2nd place and Lance was interested in making the app a reality.
Read more about the hackathon here
Read more about Lance's Foundation here.
http://www.youtube.com/watch?v=9NZd3O5nMFA